MARYLAND SHUTTING DOWN FOR BLIZZARD: The State House is shutting down Friday at 3 p.m., all hearings are cancelled, and a fiscal briefing scheduled for Monday afternoon has been moved to Tuesday. Virtually all school systems are already closed, the Washington metro will shut down. We'll be back on Monday, but snow coverage will likely dominate, though there are likely to be some weekend stories.
Facing forecasts of dangerous blizzard conditions likely to debilitate the region into next week, Gov. Larry Hogan declared a state of emergency starting Friday morning and urged Marylanders to take the storm seriously, as school systems canceled classes before seeing a snowflake, writes the team of Scott Dance, Jessica Anderson and Carrie Wells in the Sun. Snowfall is forecast to start in earnest by the Friday evening commute, and is not expected to let up until as much as 2 feet accumulates some 36 hours later. Wind gusts up to 55 mph and snow accumulation at rates of as much as a few inches per hour are expected to make travel dangerous and nearly impossible until Sunday.
OVERRIDES, ONE ON HOLD: Despite impassioned speeches from Republicans, the Democrat-controlled Senate voted Thursday to override five of Gov. Larry Hogan's vetoes from last session, and postponed voting on a sixth. CNS's Rachel Bluth writes in MarylandReporter that five pieces of legislation — funding an Annapolis arts center; seizure of assets by police; marijuana paraphernalia decriminalization; and two on hotel taxes — were approved by both the state House and Senate this week. Because both chambers approved the overrides, the bills become law in 30 days, according to the Maryland constitution.
YUCKS AMID OVERRIDES: Danielle Gaines of the Frederick News Post, in her Political Notes column, writes about the chuckles in the House of Delegates yesterday during and despite the serious work of veto overrides.
DEL. ZUCKER NOMINATED FOR SENATE: The Montgomery County Democratic Central Committee on Thursday overwhelmingly nominated establishment favorite Del. Craig J. Zucker to fill a vacant seat in the state Senate, despite complaints from some Democrats in the county that the process should have been more open, Ovetta Wiggins and Antonio Olivo report for the Post.
HIGHER ED BUDGET GETS MIXED REVIEWS: Gov. Larry Hogan's fiscal 2017 budget proposal, which includes about $6.3 billion in total higher education expenditures, is getting mixed reviews from university officials, writes Daniel Leaderman for the Daily Record.  That figure represents a 3% increase over last year, and while some are pleased with modest increases in funding others say their needs aren't being met.
GENERAL ASSEMBLY LYRICISTS: Two General Assembly panels have begun the task of reconsidering the appropriateness of the lyrics of the state song, "Maryland My Maryland," reports Danielle Gaines for the Frederick News Post.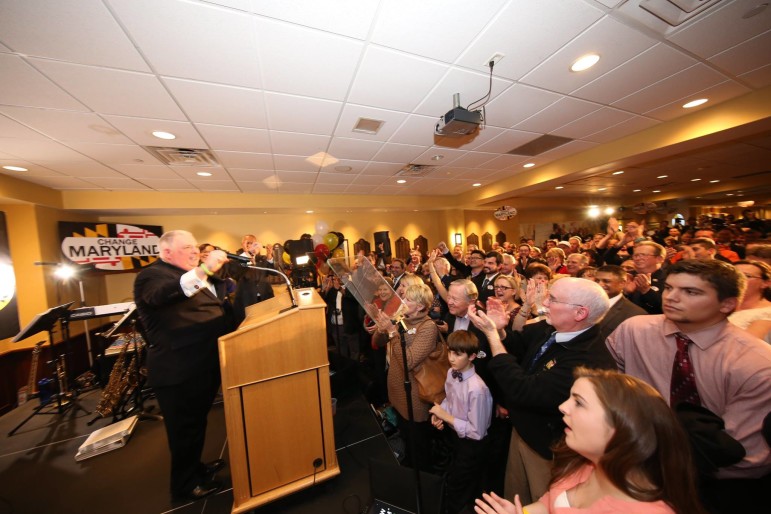 HOGAN CELEBRATES FIRST YEAR: Change Maryland says 2,000 people came out to the Navy-Marine Corps Stadium banquet rooms Thursday night to honor Gov. Larry Hogan on the first anniversary of his inauguration (and second anniversary of his official announcement he was running). It looks like less than 1,000 in photos, but it was lot of people. "What a difference a year makes" was the theme. In this 15-minute video of the event, Hogan concludes: "If we can get all these things done in just one year — while dealing with riots and battling with cancer — just imagine what we can accomplish over the next seven years [Hoots and hollers from crowd]; Folks, we are changing Maryland for the better, we are making progress, we are just getting started. You ain't seen nothin' yet." (P.S. Note Hogan's unusual use of a teleprompter.)
ON 1ST ANNIVERSARY, TALK OF 2ND TERM: Gov. Larry Hogan on Thursday made his most definitive public statement yet that he plans to seek a second term writes Erin Cox in the Sun. "We're just getting started," Hogan told a crowd of more than 1,000 gathered for an Annapolis party. "You ain't seen nothing yet."  The Republican governor delivered what sounded like a stump speech during a free party he hosted at the Naval Academy stadium to celebrate the anniversary of his inauguration.
Gov. Hogan knew his first year as governor would be a tough job; he just didn't expect a cancer diagnosis and violent riots, writes Meredith Newman for the Annapolis Capital. "And they really didn't teach a course on either one of them in new governor school," Hogan joked in front of hundreds of supporters Thursday night.
QUESTIONS ON GONZALES POLL: For political junkies, a new poll is like encountering a shiny wrapped present waiting for you under the Christmas tree, writes Richard Cross in a column for Center Maryland. All you want to do is dig into it in order to get to what's hidden inside. But polling and opening a wrapped present are both "in the moment" activities. The recent Gonzales poll found that Gov.Hogan has  achieved a stratospheric 67% approval rating – higher than the number recorded in the last recent Baltimore Sun. Are these numbers sustainable for Hogan, and can the Democrats do anything to reassert themselves from an agenda-setting standpoint?
EDWARDS EYES ABORTION CLINIC SAFETY: Rachel Weiner of the Post reports that U.S. Rep. Donna Edwards said Thursday that Democrats on a special House committee focused on abortion providers should use the panel to target violence against clinic operators.
GOV'T & BOOZE, A SLUGGISH COCKTAIL: Everywhere local or state governments exert direct control over the liquor industry, like in Montgomery County and approximately 17 other states or jurisdictions, these negative, anti-market effects exist. The horror stories are myriad, writes Andrew Moore in a commentary for MarylandReporter.com.
WHO'S WHO FOR WHO? Baltimore's power brokers — some well-known, some not — are once again placing their bets on who they want to become the city's next mayor. Some are betting on everyone, write  Luke Broadwater and Yvonne Wenger in a who's who giving to whom in the Sun.
CECIL COUNTY – NO CONTEST: With only 12 days remaining until the Feb. 3 filing deadline, the Cecil County Election Office has received no applications from Democrats for any open county office, writes Cheryl Mattix in the Cecil Whig. This sets up a once-seemingly improbable scenario: the April 26 Republican primary could determine the county's leadership for the next four years.
NEWS ANCHOR JACK BOWDEN DIES: Jack Bowden, a former WMAR-TV news anchor and reporter for more than two decades, died of leukemia Wednesday at Gilchrist Hospice Care in Towson, writes Jacques Kelly in a Sun obit. He was 82 and lived in Finksburg. "It was like he was getting off the stage," said his wife, Susan White-Bowden, a fellow reporter who also appeared with him on air. "He seemed to be at peace."