MENTAL HEALTH EVALUATIONS FOR INMATES: Maryland health officials on Tuesday said they have nearly eliminated the backlog of people who have been charged with crimes but require psychological treatment or evaluations, reducing the need to put those people in jails that can't address their needs. The Maryland Department of Health and Mental Hygiene said the number of those on its forensic waiting list dropped from a high of 84 in May to 12 this month, writes Josh Hicks for the Post.
Members of Maryland's judiciary Tuesday called on legislators to ensure that the state health department promptly care for criminal defendants waiting for court-ordered psychological evaluations for possible commitment or to determine their competency to stand trial. Bryan Sears of the Daily Record writes that Baltimore City District Court Judge George Lipman asked members of four legislative committees to re-enforce its legislative intent that dates back to the 1960s and to find a way to provide more staff for state psychiatric hospitals.
MORE ELECTION JUDGES IN BALTIMORE: Baltimore officials plan to hire and train 1,000 additional precinct judges to ensure that the November election isn't plagued by the same irregularities that marked the April primary, Yvonne Wenger reports in the Sun. The Board of Estimates is expected Wednesday to approve spending $130,000 to train the extra judges. It is one of several steps election officials say they're taking to make sure the polls are fully staffed with well-prepared workers. (A glitch with pop up ads in the Sun prevented us from posting any more stories.)
COLLEGES UNITE TO LURE FBI HQ: Officials from the University of Maryland, College Park and the University of Maryland, Baltimore are launching a new academy focusing on terrorism and counter-terrorism studies they hope will entice the FBI to relocate its headquarters to Greenbelt, reports Daniel Leaderman for the Daily Record. Based at the College Park campus, program will combine elements of existing programs from both institutions, focusing on topics such as terrorism, cybersecurity, language study and law.
CHAIR CRITICAL OF HOGAN ON FRACKING: The chairman of a state panel that made recommendations for natural gas drilling in western Maryland is highly critical of draft regulations proposed by the administration of Gov. Larry Hogan, according to an AP story in the Daily Record. David Vanko's letter to the Department of the Environment is among hundreds of pages of public comments obtained Monday by the AP. Vanko says the draft regulations, if adopted, would significantly weaken protections that most members of his advisory commission thought were needed to lower the risks of hydraulic fracturing to an acceptable level.
HOGAN TAPS CLARK FOR HOUSE: Gov. Larry Hogan has appointed Gerald Clark to a vacant seat in the Maryland House of Delegates. Hogan announced the appointment on Tuesday to fill the seat opened by the departure of former Del. Anthony O'Donnell, who was appointed by the governor to the Maryland Public Service Commission. Clark, a Republican, has served on Calvert County's Board of County Commissioners, according to an AP report at WMAR-TV.
ROADSIDE TRIBUTE FOR OFFICER: Gov. Larry Hogan  on Tuesday dedicated a stretch of highway in Montgomery County to a police officer who was killed by a drunk driver while on DUI patrol. The portion of Georgia Avenue in Olney was dedicated to Officer Noah A. Leotta in memory of his work to fight drunken driving, Ovetta Wiggins reports for the Post. (Photo below from Governor's Office.)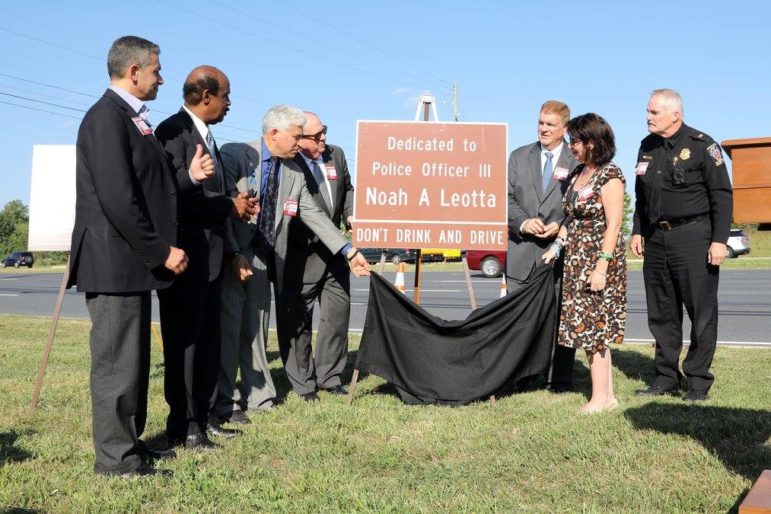 ***Assessment Administrators: Seeking motivated individuals to proctor assessment sessions with 4th- and 8th-grade students in schools for the National Assessment of Educational Progress. Must be available to work January 30 –March 10, 2017. Paid training, paid time and mileage reimbursement for local driving, and weekly paychecks. This is a part-time, temporary position. To apply, visit our website at www.westat.com/CAREERS and select "Search Field Positions." Search for your state, find the NAEP Assessment Administrator position, and select the "apply to job" button. For more information email NAEPrecruit@westat.com or call 1-888-237-8036. WESTAT EOE***
FREDERICK COUNCIL TACKLES LEGISLATIVE AGENDA: The Frederick County Council batted around initial ideas for the county's 2017 legislative agenda  Tuesday. Among the items council members hope will be considered are a bill to help municipalities fight blight and measures that would expand school choice programs, Danielle Gaines of the Frederick News Post reports.
PART 3 ON COLUMBIA'S 50th: In the third part in a series of 12 monthly essays over the next year leading up to Columbia's 50th birthday celebration next June, Len Lazarick of MarylandReporter.com examines the central role of shopping and retailing for the development of the Columbia plan. With changes in both lifestyles and retailing — and a couple of poor locations — the village centers did not always work out as planned.
Len Lazarick will speaking about his series of essays, Columbia at 50: A Memoir of a City, at the Vantage House retirement community in Columbia Thursday evening, Sept. 15 at 7:30 p.m. in the auditorium at 5400 Vantage Point Road. The public is welcome.
SPARROWS POINT & KAMENETZ: WYPR's Fraser Smith and John Lee discuss the rebirth of Sparrows Point and what it means for Baltimore County Executive Kevin Kamenetz.
CASINO HOTEL AT ARUNDEL MILLS: Officials from Maryland Live were joined by local and state officials Tuesday as The Cordish Cos. began construction on a $200 million hotel next to the casino, Jeff Barker of the Sun reports in the Capital. The 17-story, 310-room hotel and event center will be owned and operated by The Cordish Cos., which also owns the casino.
PG PUSHES CASINO REVENUE FOR EDUCATION: The Prince George's County Council adopted a resolution on Tuesday to divert a large chunk of anticipated MGM National Harbor casino revenue to lend a major boost to a local high school's vocational programs, Arelis Hernandez reports for the Post.