By Madeleine List
Capital News Service
The $225 million set aside to build three new jails for juvenile delinquents and improvements to a fourth in Maryland should be spent on community-based treatment instead, a state review panel found.
Putting more money into juvenile jails would lead to less effective treatments, according to a report by the Maryland Juvenile Justice Monitoring Unit. The unit tracks the needs of children under the Department of Juvenile Services and produces quarterly reports on the conditions of the department's facilities.
The budgeted money includes the proposed construction of three new juvenile jails in Baltimore, Prince George's County and Wicomico County. But instead, it should be re-directed to provide more nonresidential, evidence-based treatment programs in communities, said Nick Moroney, director of the Maryland Juvenile Justice Monitoring Unit.
More emphasis on community-based treatment could help reduce juvenile recidivism rates, according to the report.
"Maryland should follow the national trends and be moving away from large, congregative facilities and move more towards services in the community," Moroney said.
---
Some do need to be incarcerated
Not all juvenile offenders are suited for community-based treatment, and some, who are very high risk or have certain mental health needs, need to be incarcerated out of state because Maryland lacks the specific services to treat them, said Eric Solomon, public information officer for the Department of Juvenile Services.
Last year, 126 youth were incarcerated out of state, according to the department's data resource guide. The construction of the proposed facilities could mean that more youth are able to stay in state in the future, Solomon said.
"We would love to be serving as many kids as we can in state," Solomon said. "Some of these possible treatment centers that we could be building could help us in bringing back some of those kids to treat here."
Maryland has seven state-operated facilities for convicted youth offenders, including five lower-level security facilities controlled mainly by staff, and two that are heavily secured by hardware such as fences and bars, according to the Department of Juvenile Services.
In 2013, 630 youths were placed in staff and hardware secure facilities and 716 were in community-based treatment in Maryland, according to the Department of Juvenile Services.
Community treatment reduces recidivism
Studies have shown that intensive, community-based treatment programs, such as multisystemic therapy and functional family therapy, are more successful at reducing recidivism among juveniles than incarceration, according to the Annie E. Casey Foundation, a Baltimore-based philanthropy working on national children's issues.
Functional family therapy involves the youth's family members and aims to turn around juveniles who are at risk or already exhibiting delinquency, substance abuse or behavioral issues without sending the child away from home. Multisystemic therapy is designed to work with chronic and more serious juvenile offenders in their own communities to address every aspect of their lives, from their families and friends to schools and neighborhoods.
Success rates vary
Their success rates vary: One is better than incarceration, and the other worse, research indicates.
More than 19% of youth were reconvicted and 14.7% were re-incarcerated 12 months after release from a state-operated facility, according to the Maryland Department of Juvenile Services' 2013 data resource guide.
More successfully, 12% of Maryland youth were reconvicted and 7% were incarcerated within 12 months of completion of functional family therapy in 2012, according to a 2013 report from the University of Maryland Baltimore County. Twenty-seven percent(27%) of youth were reconvicted and 19% were incarcerated in 2012 within 12 months of completing a multisystemic therapy program in Maryland, according to a similar report.
The statistics did show that functional family therapy produced lower rates of recidivism among youth offenders than incarceration and multisystemic therapy produced higher rates, but it's impossible to fairly compare these rates because of the many variables at play, said Jennifer Mettrick, director of implementation services at the University of Maryland Baltimore County.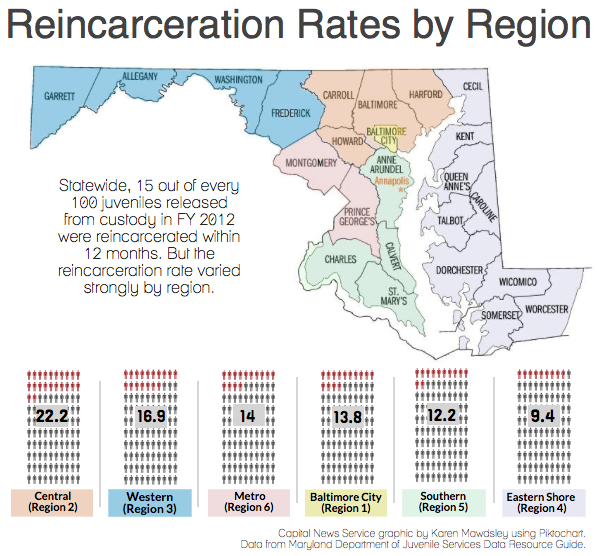 How a child responds to community-based therapy depends on the kind of offender he or she is and whether he or she has been through the justice system before, and there is no concrete system to decide who gets what kind of treatment, Mettrick explained.
"You can't do a straight comparison because there's not a systematic way that kids are being referred to these services verses out of home," she said.
There are sets of criteria that make youth ineligible for community-based treatment, such as exhibiting suicidal, homicidal or psychotic behavior, being charged as a sex offender or not being of the appropriate age. Youth must be 10-18 years old for functional family therapy and 12-17 years old for multisystemic therapy. Once a youth's eligibility for community-based treatment is determined, it is up to the court to decide where he or she is sent.
Sometimes, the decision comes down to wherever there is availability. This means that less serious offenders can wind up in residential facilities, while more serious offenders are being treated in their communities, Mettrick said.
"Sometimes they're an apples to apples comparison, sometimes they're not," she said. "But there are a lot of very similar kids that just by chance happen to get into one or the other service."
Community treatment much cheaper
Treating children in the community is much cheaper than treating them in a residential facility. The average cost per child per day for multisystemic therapy is $110, compared to $34 per child for functional family therapy, while each day at a state-operated facility per child costs $274 or $531, depending on the security level of the facility, according to the university's report.
"If we can keep 50% of kids from coming back into the system, and we're doing it at a much reduced cost and a much smaller length of time and kids are able to stay in their communities, that's a win-win," Mettrick said.
Understanding the offenders in their family context
Community-based therapies take into account almost every aspect of the child's life, rather than sending him or her away to a facility only to return home to the same situation that influenced his or her behavior in the first place, said Eliza Steele, senior monitor of the Juvenile Justice Monitoring Unit.
"The idea is that you address whatever dysfunction is happening in the family or the home so that you look at the kid holistically to understand what he needs," she said.
There is still a need for secure, state-operated facilities to house violent youth offenders who pose a potential threat, but courts should choose community-based treatment for convicted youth whenever possible, Mettrick said.
"You can't take those out-of-home placements completely out of the service array because they are still needed, but maybe to a lesser degree," she said.
It's difficult to walk the line between wanting to provide more individualized treatment services for youth and needing to meet the demand for juveniles committed to incarceration by the courts, said Jason Tashea, juvenile justice policy director at Advocates for Children and Youth, an independent organization advocating for the needs of children in Maryland.
"I have faith that DJS is working with all the relevant actors to try to make sure that the right kids are going to the right places," he said. "But we would like to see more of an emphasis on the community treatment and less emphasis on secure committed facilities."