By Margaret Sessa-Hawkins
While much of the D.C. region has bounced back from the recession, certain segments of the population are benefitting from this recovery more than others, a new report from the Maryland Center on Economic Policy, the D.C. Fiscal Policy Institute, and the Commonwealth Institute found.
The report, "Bursting the Bubble" shows that mirroring a national trend, income inequality has been growing over the past few years in the D.C. Metro area, even during the economic recovery. Towards its end, the report lists several policy suggestions to address the disparity. The Maryland counties included in the report were Frederick, Montgomery, Prince George's, Calvert, and Charles County.
This inequality is most visible when examining real wages, or wages that have been controlled for inflation. While real wages for those earning over over $43 per hour increased by $4.11 from 2007 to 2012, real wages for those earning above $22 per hour have increased by just 16 cents, according to the report. Real wages for those earning less than $11.89 per hour have actually decreased by 71 cents.
This trend of growing income inequality is also seen in other areas of the country. From the 1980s to the early naughts, the U.S.had the largest growth in income inequality of all OECD countries excepting Mexico.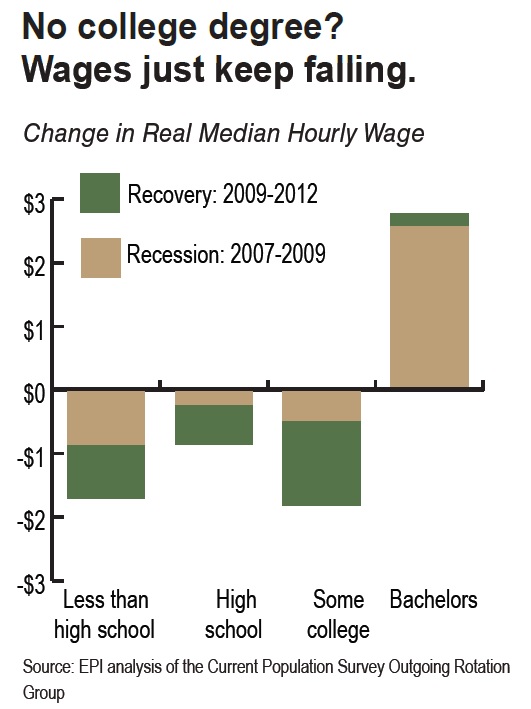 Inequality issue 'important to everyone'
"What this report shows really is that most workers are struggling in various ways," Benjamin Orr, executive director of the Maryland Center on Economic Policy said. "When we're talking about data around median wages and things like that we're really talking about half the workforce of the region, so really these issues are important to everyone."
One of the aspects to income inequality that is most visible in the report is the relationship between education and income earning potential. During the recession, workers without a high school degree saw their real median wages fall by a dollar. During the recovery, the wages continued to fall, and had dropped almost another dollar by 2012. Students with a high school or some college education also saw their earnings drop, both during and after the recession.
Students with a bachelors degree, however, continued to earn raises in their real wage throughout the recession and recovery, seeing a total increase in median earning of $2.78 from 2007 to 2012. This increase means that  not only are individuals with higher degrees earning more than their less-educated counterparts post-recession, they are also earning more relative to those counterparts, thus increasing income inequality.
"We as a society get into these vicious cycles in terms of poverty," Orr said. "Poverty means you end up with a poor education and poor educational attainment, and that leads to poor job outcomes and that leads back into poverty."
Race and education two top indicators for inequality
In addition to education, race played a huge role in both an individual's earning potential and their ability to secure a job. For white, non-hispanic workers, wages have consistently grown, even during the recession. For all others, wages fell during this same period, thus increasing the wage gap between races.
Unemployment was an especially pressing problem for black workers. Black workers without a high school degree had an unemployment rate more than double those of their similarly educated counterparts. While this disparity decreased with higher levels of education, even with an advanced degree, black workers had the highest rates of unemployment.
"We know that implicit bias operates in the hiring process," Orr said. "One of the studies that blew me away was that white ex-offenders do better [in the hiring process] than black non-offenders."
Policy recommendations run the gamut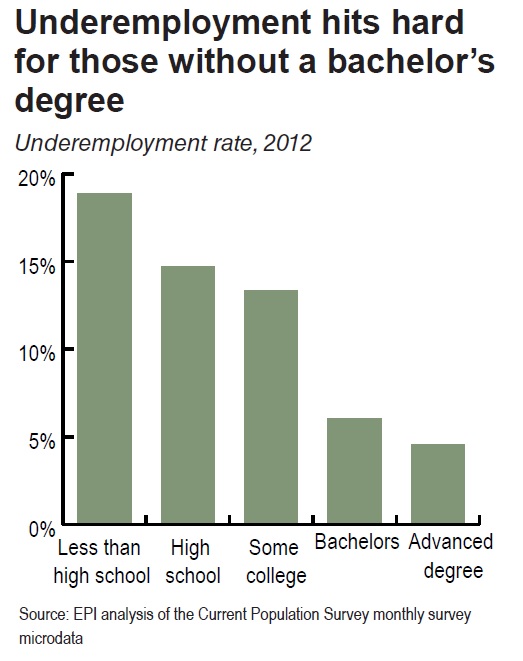 The policy recommendations the paper proposes to combat these issues are generally aligned with progressive values. They suggest providing greater skill-building, broader affordable health-care coverage, raising wages, improving the earned income tax credit and providing more affordable housing. Orr also stated that for Maryland in particular, a diversification of the job market, institution of universal pre-K, more affordable housing and better transportation options would help alleviate some of the problems.
Some institutions, while applauding the paper for highlighting the problem of inequality, disagree with the conclusions it draws on how to address the issue.
"I think Maryland really only has three counties that are the big income drivers in the state," Christopher Summers, president of the Maryland Public Policy Institute said. "When you take those counties out you see that there are severe problems in the state with regards to poverty and income inequality. I think it's a result of the progressive policies in the state, whether it be tax policies or wage policies."
While Thomas Firey, a senior fellow at the Maryland Public Policy Institute agreed with Orr that Maryland needs to provide a broader selection of jobs, more affordable housing and better transportation, he disagreed with many of the paper's other, more progressive policies. The public policy institute generally embraces free-market ideals.
Firey stated that raising the minimum wage does not actually help low-income workers, that expanding public transportation by and large benefits the wealthy, and that the progressive political policies of Annapolis only benefit the state's more well-off citizens.
"The main problem that we're seeing is that if you are a well-educated (probably from a wealthy background) person, you will also likely be wealthy and fine, and if you aren't from those demographics you are in a lot of trouble," Firey, said. "Nothing of that speaks to health care, minimum wage or the EITC [Earned Income Tax Credit] although that's at least the shadow of a good idea. I applaud the groups for highlighting this problem in Maryland, but I wish they had gone further and said that the policies currently being implemented are token policies at best."