By Meg Tully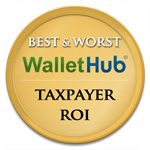 Marylanders spend within their means and get a decent return on investment when comparing taxes and quality of government services, a personal finance website has found.
Wallethub.com ranked Maryland first in the country for residents with the most sustainable spending habits, and ranked the state at an unremarkable 33rd when it comes to return on investment for state taxpayers.
The rankings list released last week combined overall tax rate with a ranking for government services to determine who had the highest return on investment.
And another list compared states for financial literacy, including a metric that sought to measure how many residents spend more than they make. Maryland had the least number of residents spending more than they take in, that survey found.
ROI: Wyoming tops, Arkansas last
The return on investment rankings put Wyoming as No. 1 for highest return on investment and Arkansas with the lowest return on investment. Nearby Washington, D.C. got into the top 10 for lowest return on investment, coming in at number 8 — just behind Tennessee.
Overall, blue states with Democratic majorities had a higher return of investment, the study found.
Though Maryland ranks 41st for overall tax rate, a higher government services rank of 22 pushed the Free State closer to the middle of the rankings.
Odysseas Papadimitriou, CEO of WalletHub.com and sister site CardHub.com, said that the rankings show taxpayers shouldn't think in absolute terms like the lowest tax rate is best, but instead consider what they're getting for their money. For instance, if education or economic services are preventing them from seeing an increase in income, the lower taxes could actually be a detriment, he said.
Taxes more relative than absolute
"We should talk about these things more in relative terms than absolute," said Papadimitriou.
In Maryland, education and economy were the highest ranked government services, earning a spot at number 6 and 13, respectively. Pollution was ranked at a dismal 45th, with health at 35th, infrastructure at 28th, and safety at 15th.
Wallethub.com evaluated 27 total sub-metrics designed to gauge the quality and efficiency of government operations in order to come up with those rankings.
For instance, in Maryland's highest scoring category, education, the ranking was based on public schools ranking, university system ranking and public high school graduation rates from U.S. News & World report and other sources.
The report does not give an exact breakdown of how the metrics were measured – Papadimitriou said they are keeping it confidential so other sites don't take their system.
The financial literacy rankings were highlighted because it is National Financial Literacy Month.
Maryland ranked 8th most financially literate, with New Hampshire and Utah taking number 1 and 2 spots, respectively.
Papadimitriou said that financial literacy is one of the most important challenges facing school systems, and he hopes states lower on the list consider what high-ranking states are doing.
"Parents are more comfortable talking about sex with their kids than they are about money," he said.