Tag:
return on investment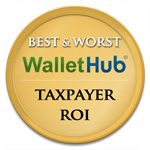 Marylanders spend within their means and get a decent return on investment when comparing taxes and quality of government services, a personal finance website has found.
Wallethub.com ranked Maryland first in the country for residents with the most sustainable spending habits, and ranked the state at an unremarkable 33rd when it comes to return on investment for state taxpayers.
Read More

Support Our Work!
We depend on your support. A generous gift in any amount helps us continue to bring you this service.
Recent Comments
Laser Cutting

December 3, 2023

Sue Livera

November 14, 2023

K. Falcon

November 3, 2023

Don

October 31, 2023

Ron

October 1, 2023
Twitter
Facebook