Tag:
Baltimore Ravens
If negotiations between the NFL Players' Association and team owners are unsuccessful in ending the current lockout, Maryland stands to miss out on as much as $42 million in revenues from the lost football season, according to a study done by Comptroller Peter Franchot and the Bureau of Revenue Estimates.
Read More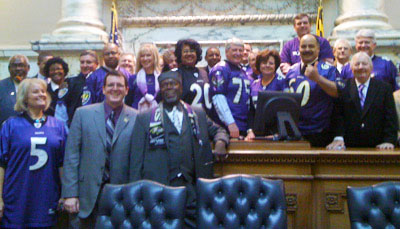 The Maryland House of Delegates has a new caucus, and it's members are excited, rowdy and purple.
At least half of the members of the House who came to Friday's session were decked out in purple, with purple ties and sweaters, purple scarves, purple shirts and quite a few Ravens jerseys dominating the chamber to root for the Baltimore Ravens.
Read More

Support Our Work!
We depend on your support. A generous gift in any amount helps us continue to bring you this service.
Recent Comments
K king

June 30, 2022

Mt Washington Group

June 27, 2022

Rita HerRera

June 24, 2022

Jennifer Martin

June 23, 2022

Meetha

June 23, 2022
Twitter
Facebook