Research has proven that protein is an essential macronutrient because it provides what your body needs to not only survive but to thrive. It is a complex substance made of amino acids and found in all living things. Amino acids are organic compounds that are formed through the combination of oxygen, nitrogen, sulfur, hydrogen, and carbon. 
Since protein is found in all living things, it's present in the human body and it is involved in creating and maintaining your cells along with a variety of functions, including: 
Hormone production

Enzyme production

Tissue repair 

Carrying oxygen through blood stream

Digestion 

Building muscle 
Protein is critical for your health and well-being. While most people should be able to get the protein they need through their diet, many turn to protein powders to increase protein levels in the body. This can enhance stamina, increase strength, help manage weight, and improve muscle mass. 
It's important to note that many companies make big promises, but they don't all live up to those promises. In this article, we'll explain more about protein powders and then review what we feel are the top 3 best protein powders on the market. You can use this list if you're thinking about adding a protein powder to your routine or if you want to change the one that you're already using. Feel free to experiment until you find the one that's best for you. 
Top 3 Best Protein Powder Supplements
Below, we'll explore our top 3 picks for best protein powder supplements. Again, these may or may not support your needs and goals. 
XWERKS Grow 

Transparent Labs 100% Grass Fed Whey Protein

Ghost Lifestyle 
XWERKS Grow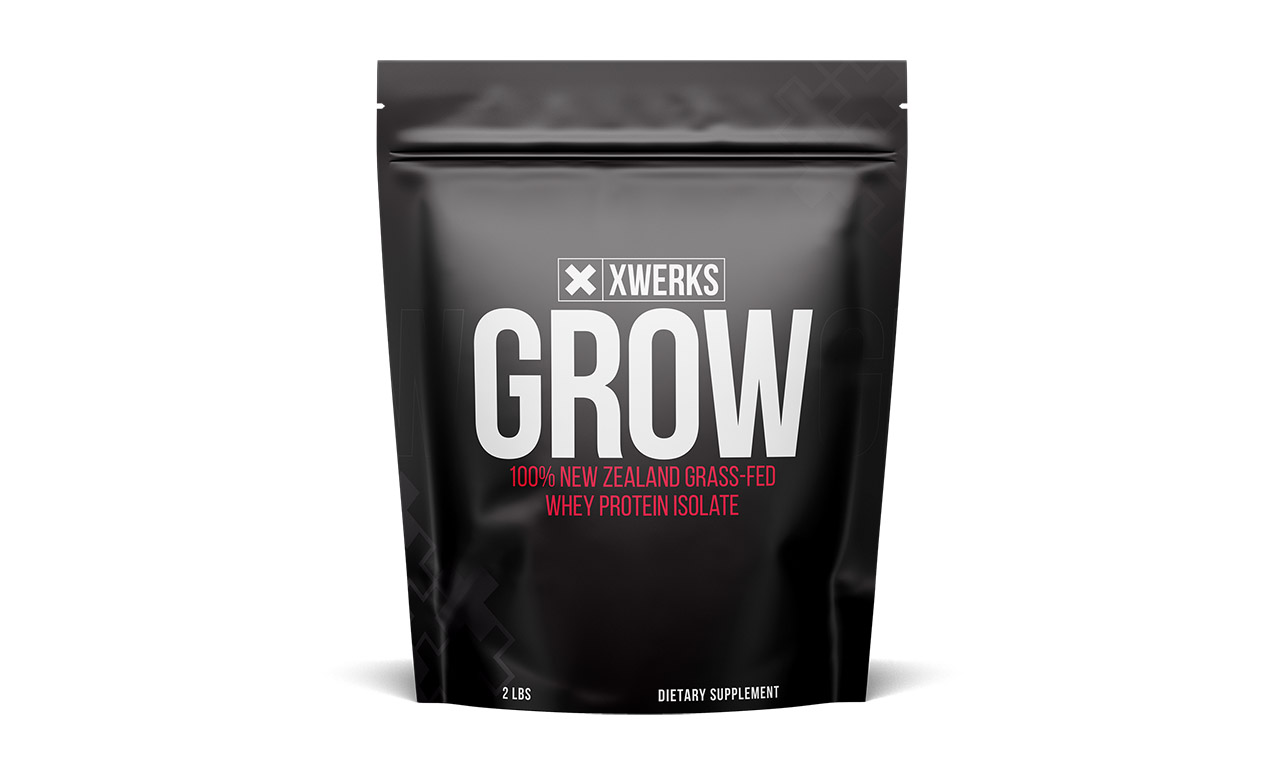 We're going to start with XWERKS Grow. This is a whey protein isolate that is sourced from dairy cows in New Zealand. It is put through an advanced filtration process that removes all carbs, fats, and lactose. Therefore, what is left is nearly 100% pure protein. 
The reason this protein powder supplement is number 1 on our list is due to the fact that it's such a high-quality supplement. We know that whey isolate is easier to digest, and you don't have to worry about gas or bloating. Plus, it's soy-free and gluten-free. 
Each serving offers 25 grams of protein, 0 carbs, 0 fat, and 6 grams of BCAAs. Grow does not have a bad aftertaste and comes in four delicious flavors: 
Peanut butter

Vanilla

Strawberry

Chocolate 
Name

XWERKS Grow

Type

Whey Protein Isolate

Nutrition Profile

25 grams protein, 6 grams BCAAs, 0 carbs, 0 fats 

Flavors

Chocolate, Strawberry, Peanut Butter, Vanilla

Cost

$59

Highlights

No gas/bloating

Gluten-free

Soy-free 
Transparent Labs 100% Grass Fed Whey Protein
Transparent Labs is also a 100% whey protein isolate. It comes from dairy farms in the United States. According to the experts, Transparent Labs 100% Grass-Fed Whey Protein is one of the best options on the market because of its protein ratio. It is 88% protein- each scoop is a total of 32 grams and 28 grams of that is protein. 
This whey protein is sourced from dairy cows that are fed natural diets. They are never given any types of hormones and there are no flavors, additives, or sweeteners in this formula. Therefore, this is definitely one of the healthiest protein powders you will find. 
Again, each scoop offers 28 grams of protein and has 120 calories, 1 gram of carbs, and under 1 gram of sugar. 
Name

Transparent Labs 100% Grass-Fed Whey Protein

Type

Whey Protein Isolate

Nutrition Profile

28 grams protein, up to 120 calories, under 1 gram of sugar, 1 gram of carbs

Flavors

Milk Chocolate, Chocolate Peanut Butter, Salted Caramel, Vanilla Peanut Butter, Cinnamon Pastry, Mocha, Strawberry, Vanilla, Cinnamon French Toast

Cost

$59.99

Highlights

Gluten-free

Increases energy 

No chemical preservatives 
Learn more about Transparent Labs here
Ghost Lifestyle Whey
Ghost Lifestyle Whey protein is simple. It is made with all 3 types of whey protein- concentrate, hydrolysate, and isolate. In addition, there are digestive enzymes to make it easier for your body to digest. Each serving contains more than 25 grams of protein. Ghost Lifestyle is soy-free and gluten-free. 
It comes in several interesting flavors: 
Coffee Ice Cream

Cereal Milk 

Cinnamon Cereal Milk

Regular Cereal Milk 

Peanut Butter Cereal Milk 

Fruity Cereal Milk 

Marshmallow Cereal Milk 

Milk Chocolate 
Ghost Lifestyle is 100% honest and transparent about the ingredients and dosages in its products. They do not use proprietary blends, which means you know what you're getting and exactly how much. They don't want to hide anything from their consumers. 
As mentioned, Ghost Lifestyle offers more than 25 grams of whey protein across the three types of protein: 
Hydrolysate: 2.5 grams

Concentrate: 10 grams 

Isolate: 12.5 grams
Additionally, Ghost Lifestyle Whey is soy-free. You have to be careful with many of the brands because their whey protein has been lecithinated by soy. Ghost Lifestyle uses sunflower instead. Soy is a proven allergen and also contains phytoestrogens, which cause estrogen levels to increase and testosterone to decrease. Finally, Ghost Lifestyle is gluten-free. 
Name

Ghost Lifestyle Whey

Type

Whey Protein Isolate

Whey Protein Concentrate 

Whey Protein Hydrolysate

Nutrition Profile

 

Flavors

Coffee Ice Cream, Cinnamon Cereal Milk, Regular Cereal Milk, Peanut Butter Cereal Milk, Fruity Cereal Milk, Marshmallow Cereal Milk, Milk Chocolate 

Cost

$44.99

Highlights

No proprietary blends

Soy-free

Gluten-free 
Types of Protein Powder
When you start shopping for a protein powder, you may find yourself overwhelmed. There are so many different options, it's hard to know which one is best. The most popular form of protein is whey protein, but it's dairy-based so there are some who can't or don't want to use it. However, that doesn't mean that those individuals can't use protein- there are plenty of plant-based options on the market as well.  
The most common types of protein include the following: 
Whey (animal-based) 

Whey protein concentrate

Whey protein hydrolysate 

Casein protein (animal-based)

Soy protein (plant-based) 

Pea protein (plant-based) 

Hemp protein (plant-based) 

Egg white (animal-based) 

Brown rice (plant-based)  
When you begin your journey to find the best protein powder to fit your needs, you may find yourself confused. The thing is, while we can tell you what we feel is best, there really is no such thing as "one supplement fits all." Everyone is different and has different needs and goals, so a protein powder (and supplements in general) is a personal decision. You have to decide which one is right for you. 
Factors We Used To Rank
We used the following factors to choose the top 3 best protein powder supplements. 
Taste

Quality 

Value 

Price 
Benefits Associated with Protein Powder Supplements
Research shows that protein powders offer a variety of benefits. After all, as mentioned, it is one of the essential elements your body needs to support bone health, muscle health, and skin health. Your body also requires protein for a variety of bodily functions. Now that we've discussed protein powders and explained how we chose the top 3 best protein powders, let's take a look at some of the benefits associated with protein powders: 
Managing Weight

Increasing Muscle Mass

Supporting Post-Workout Recovery 

Improving Nutrition
Managing Weight
When you consume foods that are high in protein or you take a protein supplement, you feel satiated for much longer than you would with other foods. This means you eat less in one sitting, and you snack less too. When you're not eating as much, it's a lot easier to manage your weight. If you're trying to lose weight or you want to maintain your current weight, protein powders make it easy to do so. 
In fact, a study from 2017 involving participants who were obese or overweight showed that protein supplementation reduced overall body weight and total fat. 
Research also indicates that protein supplementation reduces your risk of medical conditions such as high cholesterol, high blood pressure, and cardiovascular disease. 
Increasing Muscle Mass
According to experts such as bodybuilders, serious athletes, and other workout enthusiasts, protein helps you bulk up, especially if you are also working out on a regular basis. Protein helps build muscle mass. 
In 2018, a review of 49 case studies supported the idea of using protein to build muscle mass. These studies proved that protein supplementation along with resistance training resulted in an increase in muscle size and strength. 
These studies involved both males and females and results for both were very similar. The differences were in the older participants because as we age, we need more protein to support bodily functions. However, once you reach 1.6 grams per kilogram of body weight, there is no need to take more because the benefits top out. 
Supporting Post-Workout Recovery
Research shows that not only does protein help increase muscle mass, it also repairs damaged muscles and tissues. This is one of the major reasons that people use protein powder to help mitigate the soreness that comes with working out. 
Many studies indicate that protein powder is great for post-workout recovery because it improves muscle protein synthesis and enhances performance, while also reducing muscle damage. Combining protein powder with creatine and carbohydrates can also increase the effectiveness. 
Improving Nutrition
Finally, protein powders have been proven to boost nutrition. Nutritional experts say that the RDI of protein for adults over the age of 18 is: 
56 grams for males

46 grams for females
Ideally, this should be coming from your diet. However, many people struggle with getting this amount of protein for lots of reasons. If you have difficulty getting the protein your body needs, you may find that protein powder can help you reach those goals. 
That being said, if you are older, are a serious athlete, or you have been diagnosed with a chronic illness, you may require additional protein. Consuming more than the RDI may be beneficial in these situations. There's nothing that says you can't consume more and there is some research that indicates it may actually be more beneficial. Again though, consuming more than 1.6 grams per kilogram of body weight may not do much. 
Conclusion
Your body requires protein in order to survive- and even thrive. Ideally, it should come from your diet but it's not always the case. You will find yourself in some situations where you need some additional help. This is where protein powder supplements are handy. 
Variety can be a good thing- but many people find themselves overwhelmed with the variety of protein powders. That's why we've put together this list of the top 3 best protein powder supplements and also given you some more information about protein powders in general. After all, when you need to make a decision, it's best to go into it prepared and you need the knowledge to be prepared. 
If you're interested in starting to use a protein powder, start with one of the options listed here. If you don't like it or you're not seeing results, feel free to switch to something else. You can experiment for as long as you need to until you find one that works.
Affiliate Disclosure:
The links contained in this product review may result in a small commission if you opt to purchase the product recommended at no additional cost to you.
Disclaimer:
Any advice or guidelines revealed here are not even remotely a substitute for sound medical advice from a licensed healthcare provider. Make sure to consult with a professional physician before making any purchasing decision. Individual results may vary as the statements made regarding these products have not been evaluated by the Food and Drug Administration. The efficacy of these products has not been confirmed by FDA-approved research. These products are not intended to diagnose, treat, cure or prevent any disease.