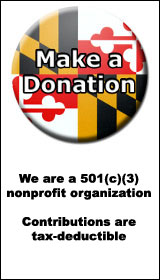 Twelve years ago this week, we launched MarylandReporter.com as the state's first nonprofit news website covering state government and politics. Since the very first day, we have produced a daily State Roundup and a newsletter that has now gone out 3,000 times linking to coverage from around the state. We've also run another 4,500 original stories by our own staff and our news partners. This represents the full range of news and points of view we can find.
We are asking you to help us celebrate our 12th birthday by donating during our major fundraising drive of the year – the NewsMatch program when every contribution up to $1,000 is matched by national foundations such as the Knight Foundation and the Democracy Fund. Between now and Dec. 31, any individual donation will be matched dollar for dollar through the national NewsMatch program.
When we started in 2009 there had already been a decline in government coverage in Maryland and throughout the country. Over the years, newspaper staffs have shrunk. In 2009, the Baltimore Sun had 300 journalists. Now it has about 80. The once thriving Gazette chain in Montgomery, Prince George's and Frederick counties was closed. Last year, the Sentinel papers in suburban Washington shut down. Newspaper offices have shuttered throughout the region.
It's not all bad news. Other online news sites have blossomed — Baltimore Brew and Baltimore Fishbowl, Bethesda Beat and Maryland Matters. And Maryland Reporter links to their content. Soon to come on the scene is the Baltimore Banner, which promises to be the largest nonprofit online news organization in Maryland. We're all trying to figure out a sustainable model for news coverage to keep your government accountable, open and honest.
Our model is collaboration not competition. Whether we report the story or someone else does, you'll find links to the most comprehensive coverage we can find. Please let us know if there's something we missed.
As we enter this election year when all the statewide offices are up for grabs, and the congressional and legislative districts are redrawn, there is still not enough reporting. Your help will keep it from declining even more.
Please make a tax-deductible donation by Dec. 31 so its impact will be doubled. You can donate via PayPal on our website by clicking here or through the donate button, or you can send a check to the address below. New monthly recurring donations on the website will be matched as if they were given for the full 12 months.
Thanks in advance for your support.
Gratefully yours,
Len Lazarick
Founding Editor, President and Chairman
MarylandReporter.com | 6392 Shadowshape Place | Columbia, MD 21045
Cell 410-499-5893 | Len@MarylandReporter.com