MADALENO ANNOUNCES FOR GOV: State Sen. Rich Madaleno has spent more than a decade in the General Assembly working on progressive issues ranging from marriage equality to raising the minimum wage. On Monday the Kensington Democrat cited that experience as he formally announced his intention to run for Maryland governor in 2018, Andrew Metcalf writes in Bethesda Beat.
Madaleno, who would be Maryland's first openly gay governor, is one of two candidates trying to win over far-left voters and carry the progressive mantle in the 2018 gubernatorial race, writes Josh Hicks for the Post.
In Maryland Matters, Bruce DePuyt writes that Madaleno, who has been a thorn in Gov. Larry Hogan's side since Hogan's election to governor, continues to hit the popular governor hard. When the cameras are turned off, Madaleno says of Hogan, "He has tried to cut funds for people living with developmental disabilities. He has tried to cut funding for our school systems, targeting especially Montgomery, Prince George's and Baltimore city. He has tried to limit access to medical assistance."
Madaleno is attempting to differentiate himself by running as a progressive in the Democratic primary — a strategy similar to that of Ben Jealous, the former NAACP president who was endorsed earlier this month by Democratic presidential candidate and U.S. Sen. Bernie Sanders, writes Bryan Sears for the Daily Record.
CUMMINGS' WIFE TO RUN? Ever since Gov. Larry Hogan pulled off the upset of 2014, several Democratic strategists and stalwarts have argued that Rep. Elijah Cummings (D) would make the party's strongest gubernatorial contender in 2018. He's not running for governor. But his wife might, writes Josh Kurtz for Maryland Matters. Maya Rockeymoore, a policy strategist and former Capitol Hill staffer, is seriously pondering the race.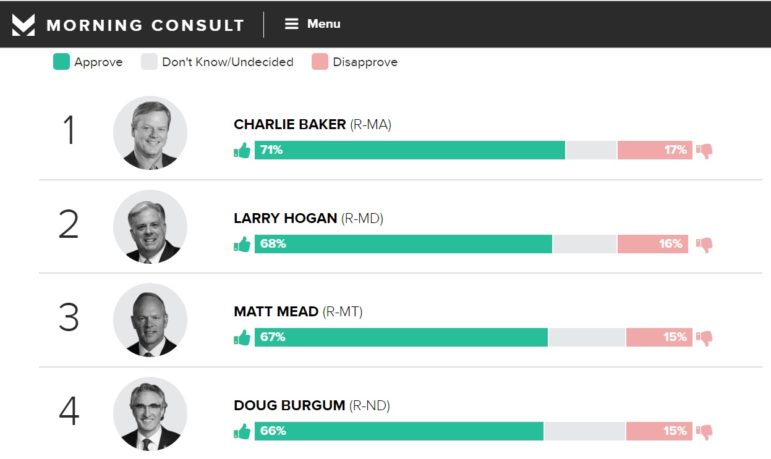 HOGAN POPULARITY CONTINUES: Morning Consult is just out with its latest rankings of state governors. Republicans Charlie Baker of Massachusetts and Larry Hogan lead the way. "Baker and Hogan, two canny dealmakers who have largely eschewed the national political scene and have been unsupportive of President Donald Trump and congressional Republicans' efforts to repeal and replace significant parts of Obamacare, continue to enjoy the support of a large share of voters in traditionally Democratic states ahead of their 2018 re-election bids. Seventy-one percent of Massachusetts voters said they approve of Baker while 68 percent of Marylanders back Hogan." Lest popular governor: New Jersey's Chris Christie at 25%.
A VULNERABLE HOGAN? Eric Cortellessa writes in a detailed piece for the New Republic that despite his popularity, Gov. Larry Hogan could very well be vulnerable in the next election.
VISAs FOR FOREIGN WORKERS: The Trump administration will permit 15,000 more foreign workers to enter the United States this year under a visa program that Maryland's seafood industry has described as vital to its survival but that has drawn mounting criticism from both ends of the political spectrum, John Fritze of the Sun writes. Crab-picking and oyster-shucking houses on the Eastern Shore have relied on a small number of foreign workers allowed into the country each year on H-2B visas.
K-9 OVERDOSE PREVENTION: Throughout Maryland, police departments have been training officers in their K-9 units on how to administer an opioid overdose reversal drug to their dogs in the event that they accidentally come in contact with these substances while sniffing for narcotics, Talia Richman reports in the Sun.
PUBLIC CHARTER SCHOOLS & BUS FUNDING: Maryland's public charter schools are entitled to the same level of transportation funding that public non-charter school students receive in the same county, a divided Maryland high court has held. The requirement for commensurate funding applies even if the charter school does not provide transportation for its students, the Court of Appeals said in its 5-2 decision Friday, Steve Lash of the Daily Record reports.
HOGAN, DEMS BRAWL: The editorial board for the Post addresses the tug of war between the Maryland Senate and Gov. Larry Hogan over his recess appointments. The board calls it the latest instance of Democrats seeking to thwart Mr. Hogan, a Republican whose popularity in a heavily blue state owes much to his personal appeal and his willingness to defy President Trump. Democrats, frustrated at their inability to dent Mr. Hogan's armor, are spoiling for a fight. That they picked this one is partly Mr. Hogan's own fault, because the two appointments in question are unimpressively qualified.
UPSWING FOR HORSE INDUSTRY: Fair Hill, a 5,600-acre horsy hangout on state-owned land in Cecil County, could become the permanent home of an annual international equine competition that could attract as many as 80,000 visitors for each four-day event, Karen Hosler of WYPR-FM reports.
FRICK, MILLER FUNDS: Dels. Bill Frick of Bethesda and Aruna Miller of Darnestown — both of whom intend to run for the District 6 congressional seat if U.S. Rep. John Delaney vacates it to seek the governorship or pursue other opportunities in 2018 — raised more campaign funds than Delaney during the second quarter of 2017, Louis Peck reports in Bethesda Beat.
Mo Co COUNCIL TO PAY EXEC OFFICE SALARY: Glynis Kazanjian of MarylandReporter writes that after serving as the Montgomery County Council's legislative information officer for 11 years, Neil Greenberger began a new job Monday in the county executive's Public Information Office. The council will continue to pay his salary. Greenberger is now a Democratic at-large candidate for the County Council he served and requested a job transfer to another county agency to allay concerns of potential conflict of interest with his job and his campaign.
Mo Co CHARTER CHANGE: Adam Pagnucco of Seventh State follows up on an earlier article on the Montgomery County Charter Review Commission consideration of recommending a charter amendment that would abolish or reduce the number of the County Council's at-large seats, which account for four of the council's nine seats. One reason for this is that currently three of the four at-large seats are held by residents of Takoma Park, long regarded as the most left-wing jurisdiction in the State of Maryland.
LEGGETT PLAN FIZZLES: The idea was ambitious when Montgomery County Executive Ike Leggett pitched it in 2008: Transform 90 acres of county-owned industrial land at the Red Line's Shady Grove terminus into a transit-friendly urban village. But nearly a decade in, as Leggett (D) nears the end of his 12-year tenure, this signature project has not gone forward as expected, Bill Turque reports in the Post.
GERTRUDE POE, JOURNALIST, DIES AT 101: In this extensive obituary for the Laurel Leader, Melanie Dzwonchyk remembers Gertrude Poe, who guided the Laurel Leader for 41 years as editor before retiring in 1980, died Thursday, July 13, 2017 at her home in Ashton. Ms. Poe was 101. Her career at the Leader began in 1939 when, after graduating from Washington College of Law, Ms. Poe returned to her job in the law offices of Bowie McCeney on Main Street. McCeney, however, handed her the community newspaper he had earlier acquired in a business deal, and Ms. Poe's career in journalism was launched.