CONSTRUCTION PROJECTS IMPERILED: Erin Cox of the Sun reports that a General Assembly budget expert warned leaders of local governments Friday that as much as $200 million worth of state construction projects could be canceled next year because the state can't afford them.  "Some people who were expecting things to be built, they're going to be disappointed," state Sen. Edward J. Kasemeyer, chairman of the Senate's budget committee, told officials gathered for a Maryland Association of Counties meeting. "I think this is going to be a year of [missed] expectations and disappointments."
VAN HOLLEN CALLS ON HOGAN IN TERROR PREVENTION: Rep. Chris Van Hollen, a Democratic candidate for Senate, is pressing Republican Gov. Larry Hogan to use his executive power to stop people on the FBI's terrorist watch list from obtaining guns. John Fritze and Erin Cox of the Sun write that, echoing an issue Democrats have been pressing in Washington, Van Hollen wrote in his letter that "Tea Party obstructionism and the NRA" have blocked efforts to pass federal legislation. Instead, Van Hollen wrote, Hogan should "explore every possible state action to prevent dangerous individuals from purchasing guns in Maryland."
Matthew Clark, a spokesman for Hogan, said Friday that Maryland already has a policy on gun purchases that addresses individuals on the list. Under the policy, Maryland State Police place a hold on a person on the FBI Terrorist Watchlist. The state then works with federal authorities, who would make the final decision about a gun purchase, reports Ovetta Wiggins for the Post.
Van Hollen, a Democrat from the Montgomery County-based 8th Congressional District, told Hogan, a Republican, in a letter that he should follow the lead of Connecticut Gov. Dan Malloy, the Democrat who on Thursday signed an executive order to ban the sale of guns to individuals on government watch lists, Aaron Kraut reports for Bethesda Beat.
BLACK PENS & PAPER BALLOTS: Voters in Maryland will be casting their votes with black pens and paper ballots in the upcoming presidential primary, nearly a decade after lawmakers decided to get rid of touch-screen machines that leave no paper trail, Fenit Nirappil reports in the Post.
JAIL VISITATION POLICY CHANGE: A new policy affecting all 24 Maryland correctional facilities bans touching at the beginning of a visit, kissing on the mouth and taking pictures, according to the Department of Public Safety and Correctional Services. Hugging or kissing on the cheek is limited to the end of the visitation period. The change is an effort to crack down on contraband during visitation, Christina Jedra reports for the Annapolis Capital.
POLICING LAW AMENDMENTS: Legislators in the upcoming General Assembly are expected to consider changes to several laws governing policing, including measures to amend the state's Law Enforcement Officers' Bill of Rights, reports Bryan Sears in the Daily Record. The expected legislation stems from the work of one legislative panel charged with examining policing issues in the wake of the death of Freddie Gray, a west Baltimore man who suffered a fatal injury while in police custody.
'HONEYMOON OVER:' While state Sen. JB Jennings, the majority leader, may declare that the lovefest is over between Gov. Larry Hogan and the state legislature, Democrats aren't so quick to agree, even those who did give the new Republican governor a headache or two during his first session, writes Len Lazarick for MarylandReporter.com.
HOGAN, FRANCHOT SHOP: Gov. Larry Hogan and Comptroller Peter Franchot visited downtown Easton Friday during the comptroller's "Shop Maryland for the Holidays" tour, Katie Willis reports for the Easton Star Democrat.  Hogan traveled with Maryland's first lady, Yumi Hogan, and Franchot's wife, Anne Maher, attended the event, as well.
BYRD STADIUM NEVER MORE: The University System of Maryland Board of Regents voted Friday in favor of renaming the University of Maryland's Byrd Stadium, backing university President Wallace Loh's proposal to change the name earlier this week . Following the 12-5 vote, the football stadium will be known as "Maryland Stadium," which takes effect immediately, according to the announcement, Sara Gilgore reports for the Baltimore Business Journal.
LATINO PAC HOLDS PENA-MELNYK FUNDRAISER: A national Latino political action committee hosted a fundraiser in Washington on Thursday night for Maryland congressional candidate Joseline Peña-Melnyk, a Democratic state lawmaker vying to succeed U.S. Rep. Donna F. Edwards, Arelis Hernandez reports in the Post.
HETTLEMAN, LIERMAN BACK VAN HOLLEN: Two Baltimore-area lawmakers — Dels. Shelly L. Hettleman and Brooke E. Lierman — have endorsed Rep. Chris Van Hollen's campaign for Senate, John Fritze reports in the Sun. The two state lawmakers made the announcement at an event Thursday night organized by Democratic women supporting Van Hollen. The Montgomery County lawmaker is running against Rep. Donna F. Edwards for the Senate seat that will be left open in 2017 by Sen. Barbara Mikulski's retirement.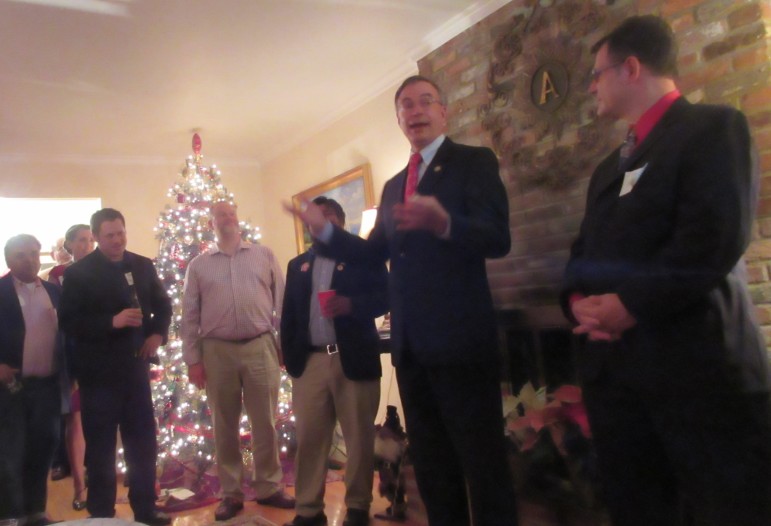 HARRIS EXCITED ABOUT SENATE RACE: Saturday's Maryland GOP Christmas Party at the Baltimore home of Republican National Committeewoman Nicolee Ambrose was headlined by the state's highest elected Republican, Congressman Andy Harris. (Photo above.)
He was introduced by David Bossie, president and chairman of Citizens United, the organization that won the Supreme Court case overturning federal campaign finance limits. Bossie called Harris "a principled conservative" and said "other members are watching what Andy Harris is doing. This guy is truly a leader and he's going to be a bigger leader in years to come."
Harris told the crowd that any of the Republicans running for president are better than the Democrats. "This country is talking about the Republican agenda. This battle is being fought on our [turf]. They've lost their discussion points."
"I'm very excited by the U.S. Senate race. I see this coming together" for a Republican win, said Harris."The Democrat primary is going to get nasty… There's going to be bad blood coming out of that primary."
Harris is supporting Del. Kathy Szeliga, his former state Senate chief of staff and campaign manager. (Len Lazarick, MarylandReporter.com)
PUGH OPENS MAYORAL CAMPAIGN OFFICE: State Sen. Catherine E. Pugh told about 100 supporters Saturday that as mayor she would reduce Baltimore City's crime rate by putting more people to work and would depend on members of the community to "lift each other up." Yvonne Wenger writes that Pugh made her comments at a holiday party at her new campaign headquarters in Baltimore City's Mid-Town Belvedere neighborhood.
LURING BUSINESS TO PG: Jim Coleman is the evangelist to Prince George's County Executive Rushern Baker's hoped-for economic revival. Armed with generous tax incentives, loans and other offers of assistance, he has launched an aggressive campaign to lure businesses with expiring leases from Northern Virginia and the District, calling potential converts to see how they might prosper in a jurisdiction that for decades has struggled to compete with its wealthier neighbors. Arelis Hernandez of the Post profiles the man and his work.
FIRE DAMAGES ANNAPOLIS YACHT CLUB: Nearly 100 firefighters responded to a three-alarm fire Saturday afternoon at the Annapolis Yacht Club. Two firefighters were hospitalized with minor injuries, but no civilians were injured as a result of the fire, said Capt. John Bowes of the Annapolis Fire Marshal's Office. The fire was put out before 7 p.m., about five hours after it started, according to the Annapolis Capital.
DAILY RECORD SOLD: The parent company of the Daily Record has been sold, the Daily Record is reporting. New Media Investment Group Inc. announced it had acquired the business information unit of Dolan LLC and its 39 print and online publications, which include the Daily Record. New Media is the parent of GateHouse Media LLC, a Pittsford, N.Y.-based publisher with operations in 32 states.