Tag:
Mike Smiegiel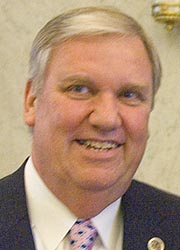 Republican legislators applied their usual persistence in trying to trim the Maryland budget Wednesday and were rewarded with their usual result: Every one of the dozen amendments they offered to reduce spending were defeated by overwhelming Democratic majorities.
Read More
Gov. Martin O'Malley has appointed first-term Del. Stephen Hershey to fill the seat vacated by Sen. E.J. Pipkin in District 36 – breaking a tie among the GOP central committees of Caroline, Cecil, Kent and Queen Anne's counties. They were split between Hershey and his colleague in the House of Delegates, Del. Mike Smigiel. O'Malley said his decision was based on recognition of broader support for Hershey in District 36. He also said the choice should not have been his to make.
Read More

Support Our Work!
We depend on your support. A generous gift in any amount helps us continue to bring you this service.
Twitter
Facebook